Medical Emergency Contact Bracelets
All your medical conditions, prescriptions and your emergency contact numbers in one easy place. EMTs and your friends and family will thank you! Be sure to advise your emergency contact numbers that you are wearing their phone numbers In Case Of Emergency. I.C.O.E. Bracelets are so soft and comfortable you never have to take them off.
Add-on a fun design so children will want to wear their medical bracelet instead of have to wear it. (Available to all ages!) Medical conditions and phone numbers are always given priority if space is tight so we will contact you if the add on-design won't fit.
When creating your bracelet, if your condition is not noted, use the "special request" box to include the details you want engraved on each bracelet. And please double check spelling.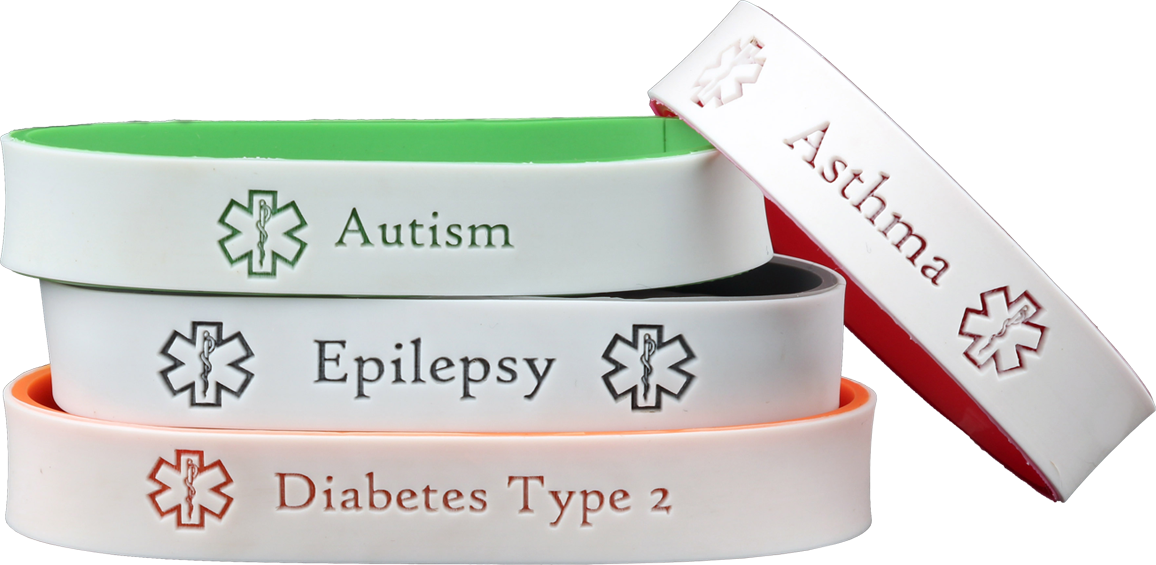 Create Your Medical Bracelet

Medical Emergency Contact Bracelets
$15.99
Reviews
Amazing! I haven't taken this off since I received it. It's super comfortable and easy to read. Washes easily when I wash my hands and shower. Great quality. 10/10! Would totally recommend. It's perfect for folks not looking for the traditional old school metal medical ID bracelets. It brings me and my family so much peace of mind.
This item is a God send. I ordered them because my daughter had autism and seizures. Sometimes she can't even remember her own name. Now I know someone will be able to contact me.
Shipped way quicker than I thought it would. The medical ID is for myself & is comfortable enough that I can wear it everyday without taking it off.
I really love this medical bracelet! I ordered a red one, and it looks really nice. It feels nice to wear as well. It can hold more information than a lot of other medical ID bracelets I have seen. I really like that this style does not have a clasp as well.